Ethics Matters
August 2022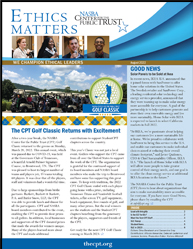 NASBA's Center for the Public Trust (CPT) is excited to introduce its newest staff members, Deborah Lederman, Jasmine Jenkins and Brandi Taylor. The CPT staff offers continuous guidance and support throughout the year. We are privileged to have these leaders share their knowledge and professional experience.
Brandi Taylor serves as the executive assistant to the CPT president and as administrative support to the CPT Team. In this role, she helps with all administrative needs for the CPT president and staff including calendar management, appointment scheduling, follow-up activities and special projects as needed. She is self-motivated and goal-directed with positive energy, initiative, and focus. She also brings keen insight into the needs of others, the ability to listen, identify problem areas and form innovative solutions and articulate them in presentations and meetings.
Taylor had a career in higher education, prior to joining the CPT. She has also served as an executive assistant for other companies and nonprofit organizations such as the ECS Group, The Legacy Foundation, Man Up Men's Health Initiative, and The College Consultant. Her experience within the higher education, entertainment, creative arts, and the sports industries have cultivated her skills in event planning, promotions, recruitment, and communications. She prides herself in having a special talent at engaging customers/clients, building relationships, and providing excellent customer service.
Outside of the CPT, Taylor spends lots of time with family, loves to travel, and read.
Deborah Lederman serves as the CPT operations manager. In this role, she works closely with the CPT president to grow the organization's presence across the country and to ensure quality delivery of all CPT programs and services. Lederman joins the CPT with more than 15 years working as a program manager and administrator in academic and professional organizations.
She has been instrumental in managing the fulfillment of larger organizational goals and coordinated activities between multiple projects. She provides detailed attention to program strategy, project delegations and program implementation. Lederman has also played an active role in nonprofit fundraising. She has planned and executed events featuring some of Nashville's biggest artists, such as Allison Kraus, Bela Fleck, Abigail Washburn, and Joy Williams. She is adept in cultivating relationships with donors, creating and implementing fundraising programs and working closely with organizations to achieve fundraising goals.
When not at CPT, Lederman can be found volunteering at her daughter's high school store, taking a yoga class, and trying to teach her dogs, Taffy and Frances, to not bark at squirrels.
As Student Programs Manager, Jasmine Jenkins is responsible for all CPT student-related programs and events such as the StudentCPT Chapter Program, Ethics in Action Video Competition, Campus Being a Difference Awards, Ethical Leadership Certification Program, Lead with Integrity series, and the StudentCPT Leadership Conference.
Prior to joining the CPT, Jenkins worked at Mercedes-Benz, where she helped improve engagement and relationship building to recapture customers and drive retention. She also worked at Kaiser Permanente as a hospital courier manager, preparing over a hundred drivers for their daily route. While at Mercedes-Benz and Kaiser Permanente, Jenkins created strategic plans and led trainings focused in areas of public relations, risk management, recruitment, and leadership development.
A California native, Jenkins was a collegiate student-athlete at the University of Nevada, Reno while receiving a Bachelor of Science in human development and family studies. In Jenkins' free time, you can find her playing ball with her two boys or exploring Music City.