Ethics Matters
August 2021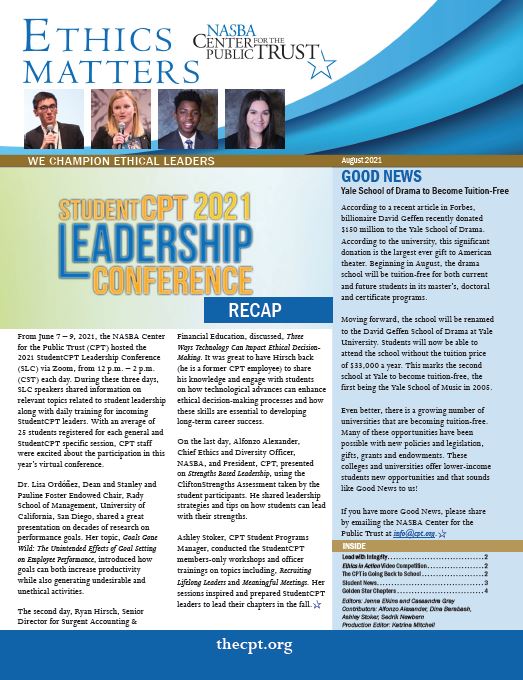 As students prepare to head back to campuses across the United States and travel restrictions are being lifted, the NASBA Center for the Public Trust (CPT) is gearing up to support 49 StudentCPT chapters and their efforts on campus. The CPT is anticipating increased engagement with in-person activities, including speakers campus recruiting fairs, and community service projects.
The CPT is committed to meeting the needs of student leaders by providing training, chapter resources and promotional materials, such as t-shirts, pens and branded tablecloths, to help chapter leaders promote ethical leadership across campus. Pizza and Chick-fil-A are also "big hits" when served at chapter meetings!
Your support provides the resources to give students a lasting memory and experience by participating in the StudentCPT. A gift of $100 provides 10 t-shirts or 10 pizzas, and a lifetime experience that the CPT believes translates into future ethical leaders.
Consider making your gift today by visiting the website at thecpt.org/donations/.
Checks can also be mailed to:
Center for the Public Trust
P.O. Box 306262
Nashville, TN 37230-6272
Again, thank you for your support of the CPT and ethical leadership development!