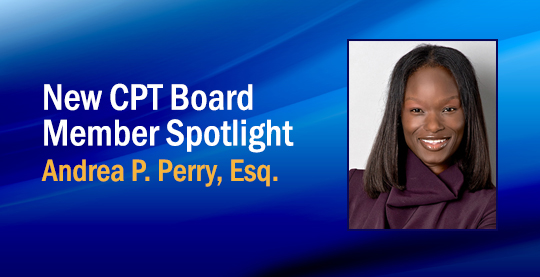 The NASBA Center for the Public Trust (CPT) staff recently sat down for a chat with its newest board member, Andrea P. Perry, Esq. Perry, a 2021 Nashville Business Journal Best of the Bar award recipient, is a member and attorney with Bone McAllester Norton PLLC, in Nashville, TN. She concentrates her practice in the areas of real estate, commercial lending, general corporate, entertainment, and tax-exempt organizations. Hear more from Attorney Perry as she shares insight on why she accepted the invitation to join the CPT Board of Directors, her proudest moments in life and how young professionals can overcome life's challenges.
What made you decide to join CPT's Board?
I decided to join the CPT's Board of Directors as its mission resonates with me. It is important to me to be a part of a nonprofit focused on the development, empowerment and promotion of ethical leaders.
What are some of your proudest moments?
This is a question that causes one to reflect upon what they value most in life. When asked this question, I could talk about the success that I've had in my career, awards that I've amassed over my career or the ceilings that I've broken as a black female in the field of law; however, my proudest moments stem from watching my sons accomplish their dreams, both on and off the field, and hearing my parents tell me thank you for being by their side to care for them when they were ill. Those are the things of which I am most proud.
Tell us about your college experience? What were you involved in?
My college experience was truly one of the best times of my life. This was largely due to the people I met and friends that I made during that time – friends that I still have to this day. As a student at both the University of Memphis and Vanderbilt, I was involved in a myriad of clubs and organizations – pre-law club, a sorority, and student government association, to name a few. I enjoyed being busy and having the opportunity to meet people from various walks of life.
How do you recommend young professionals overcome a challenge?
Maintaining a positive mindset is first and foremost. Thus, it is important to remember that everyone encounters challenges in their journey through life. Next, you have to analyze the challenge and come up with a plan of how to overcome it. Remember it's okay to ask for help with either coming up with a plan to overcome the challenge or executing the plan. Reach out to your parents, a friend, a teacher or someone who has always been in your corner. The important thing to remember is you don't have to handle your challenges alone. Everyone has had help getting to their destination in life.
To learn more about Andrea P. Perry, Esq., visit: https://www.bonelaw.com/attorneys/andrea-p-perry.