Ethics Matters
February 2021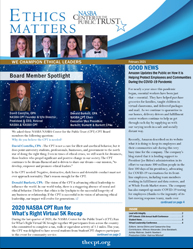 More than 150 business leaders, public accountants, educators, and policy setters convened for Ensuring Integrity: The 15th Annual Audit Conference, on December 1 – 2, 2020. Hosted by the Robert Zicklin Center for Corporate Integrity at Baruch College and the NASBA Center for the Public Trust (CPT), the annual conference provided a forum for interaction and discussion between representatives from the American Institute of Certified Public Accountants (AICPA), the Securities and Exchange Commission (SEC) and the Public Company Accounting Oversight Board (PCAOB).
CPT President Alfonzo Alexander opened the conference by welcoming guests and giving opening remarks. The program was headlined by Diana Stoltzfus, Deputy Chief Accountant, Office of the Chief Accountant at the SEC, and Barbara Vanich, Deputy Chief Auditor, Office of the Chief Auditor, PCAOB.
Other conference speakers and panelists included: George Botic (PCAOB), Jim Burton (Grant Thornton), Ben Campbell (Deloitte), Douglas Carmichael (Baruch College), Harry Cohen (KPMG LLP), Bob Dohrer (RSM), Audrey Gramling (Oklahoma State), Tracy Harding (ASB), Chair, Susan Jones (KPMG International), Kathleen Karatas (Bee, Bergvall & Co.), Diane Larsen (EY), Jeff Mahoney (Council of Institutional Investors), Mike Maloney (Credibility International), Dennis McGowan (Center for Audit Quality), Claudius Modesti, (Akin Gump Strauss Hauer & Feld LLP), and Alan Skinner (Carr Riggs & Ingram).
For the first time in its 15-year history, the conference was held virtually, via Zoom, due to the ongoing COVID-19 pandemic. The duration of the conference was shortened, and the program was divided over two days for all attendees to retain the maximum amount of information. The conference will be featured in an upcoming issue of The CPA Journal. Are you interested in attending the 2021 conference? Email info@thecpt.org for more information.