Ethics Matters
February 2021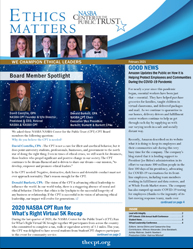 We asked these NASBA NASBA Center for the Public Trust (CPT) CPT Board members the following question:
Why do you believe the CPT is needed?
David Costello, CPA – The CPT is not a cure for illicit and unethical behavior, but it does point university students, professionals, businesses, and government to the north star of doing the right thing. Even in times of ethical crises, we still search for dreamers, those leaders who propel significant and positive change in our society. The CPT continues to be dream-fluenced and is driven to share our dream—our mission, "to develop, empower and promote ethical leaders."
Is the CPT needed? Negative, destructive, dark forces and detestable conduct must not ever approach normality. That's reason enough for the CPT.
Donald Burkett, CPA – The vision of the CPT is advancing ethical leadership to influence the world. In our world today, there is a staggering absence of moral and ethical behavior. I believe that ethics is the lynchpin to the successful longevity of any business or relationship. If the CPT is successful in its vision of advancing ethical leadership, our impact will evolve for generations.