Ethics Matters
February 2021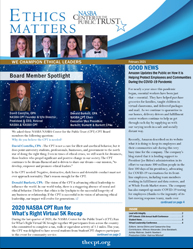 During the last quarter of 2020, the NASBA Center for the Public Trust's (CPT) Run for What's Right Virtual 5K brought together 40 participants from across the country who committed to complete a run, walk or equivalent activity of 3.1 miles. This year, the CPT was delighted to have several students from StudentCPT chapters participate in this event for community service. The CPT's Run for What's Right Virtual 5K launched during NASBA's Annual Meeting on November 2 and concluded on December 31, raising $25,639. Proceeds from this event enable the CPT to take its programs to more college campuses and support the CPT's mission to develop, empower and promote ethical leaders.
The CPT is excited about the opportunities this support will bring to help expand pro-gram offerings to students and professionals in 2021. Thanks to all who supported the CPT's Run for What's Right Virtual 5K!
Your continued support is critical to the CPT's mission. If you would like to invest in ethical leadership, please visit www.thecpt.org/donations/. Checks can also be mailed to:
Center for the Public Trust
P.O. Box 306262
Nashville, TN 37230-6272
Again, thank you for your support of the CPT and ethical leadership development!