Ethics Matters
October 2020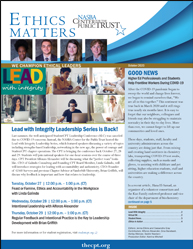 A year ago, the NASBA Center for the Public Trust (CPT) held its first ever virtual 5K. Little did CPT staff know that trendsetting virtual events would become the norm for 2020. From virtual meetings to virtual trainings, the CPT's approach and processes have been adapted, so professionals and students continue to receive the education needed for ethical decision-making and leadership.
Throughout the years, the support for the CPT has consistently grown. We believe this success is because of the CPT's exciting events and opportunities that are offered to CPT supporters. Given the current environment, it makes sense that the CPT expands the virtual 5K concept that was launched last year.
In the coming days, details will be sent out on how you can participate and/or support the 2020 Virtual 5K. The CPT's website, www.thecpt.org, will also provide additional details.
If you prefer to make your contribution today instead of participating in a virtual 5K, you can do so by visiting: www.thecpt.org/donations. You may also contribute by mailing a check to:
NASBA Center for the Public Trust
P.O. Box 306272
Nashville, TN 37230