Ethics Matters
October 2020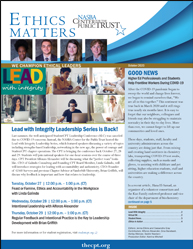 Last summer, the well anticipated StudentCPT Leadership Conference (SLC) was canceled due to COVID-19 concerns. Instead, the NASBA Center for the Public Trust hosted the Lead with Integrity Leadership Series, which featured speakers discussing a variety of topics including strengths-based leadership, networking in the new age, the power of courage and StudentCPT chapter operations. The CPT is bringing the conference back October 27, 28 and 29. Students will join national speakers for one-hour sessions over the course of three days. CPT President Alfonzo Alexander will be discussing what the "perfect team" looks like. CEO of Galindo Consulting and Founding CPT Board Member, Linda Galindo, will will introduce strategies for leading with accountability and authenticity. CEO/Founder of G360 Surveys and previous Chapter Advisor at Vanderbilt University, Brian Griffith, will discuss why feedback is important and how that relates to leadership.
Tuesday, October 27 | 12:00 p .m . – 1:00 p .m . (CT)
Feast or Famine, Ethics and Accountability in the Workplace with Linda Galindo
Wednesday, October 28 | 12:00 p .m . – 1:00 p .m . (CT)
Intentional Leadership with Alfonzo Alexander
Thursday, October 29 | 12:00 p .m . – 1:00 p .m . (CT)
Regular Feedback and Intentional Practice is the Key to Leadership Development with Brian Griffith
For more information or for student registration, visit studentcpt.org.