Ethics Matters
Q2 2020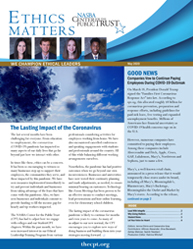 Colleges and universities around the globe have transited their students off campus to online learning platforms in efforts to fight the spread of COVID-19. StudentCPT chapters are staying engaged while utilizing technology, despite being unable to meet
in person.
Oklahoma State University
Oklahoma State University StudentCPT members recently tuned into a virtual meeting. Old and new officers completed a fun facts sheet, which was then turned into a fun Get to Know You Kahoot game with the chapter members. Members also established chapter goals for the upcoming school year.
Florida State University
CPT President, Alfonzo Alexander, recently spoke to Florida State University StudentCPT members along with two business classes via Zoom. During his presentation, Alexander shared personal experiences of how he overcame ethical dilemmas early on in his career. He also discussed how to manage chaos during challenging times.
2020 Ethics in Action Video Competition
Each year, the NASBA Center for the Public Trust (CPT) encourages college students to creatively demonstrate why ethical leadership is important in business. This year, 117 videos were received from 33 schools, signifying a record-breaking response! Let's give a round of applause for our 2020 Ethics in Action Video Competition winners. Special thanks to the Dean Institute for Corporate Governance and Integrity for sponsoring this year's competition.
Short Film Category (1-3 Minutes)
First Place:
Tax Preparer Dilemma, Austin Community College
Runner Up – It's a tie!:
A Clean Conscious, Texas Woman's University
Toxic Behavior in the Workplace, University of New Mexico
Commercial Category
(59 Seconds or Less)
First Place:
Dilemma, University of Colorado, Colorado Springs
Runner Up:
Generation Collaboration, University of New Mexico
Viewer's Choice Short Film (1-3 Minutes)
First Place:
Ethical Decision Making While Working From Home, Carroll University
Runner Up:
Ethical Dilemmas, Georgia Gwinnett College
Viewer's Choice Commercial
(59 Seconds or Less)
First Place:
Best Ethical Decision Making During a Pandemic at Work, Georgia Gwinnett College
Runner Up:
Problems at Your Workplace, Georgia Gwinnett College