Ethics Matters
Q1 2020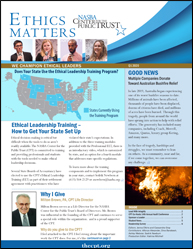 Colorado Mesa StudentCPT Gives Back
Colorado Mesa University StudentCPT encouraged chapter members and other organizations to support the Angel Tree. Gifts ranging between $10-$20 were collected and given to families in need. They celebrated with a wrapping party topped off with hot cocoa!
Florida State Feeds the Hungry
Florida State StudentCPT chapter members recognize the importance to giving back to their local community. This semester, they wanted to feed those who cannot afford to feed themselves. The chapter hosted a canned food drive to support Second Harvest of Big Bend.
TN Tech Takes Networking to the Next Level
In November, Student Programs Manager, Ashley Metivier, joined the Tennessee Tech StudentCPT chapter for an interactive presentation focused on Networking. Students perfected their handshakes, created personal pitches and came up with conversation starters.