Ethics Matters
July/August 2019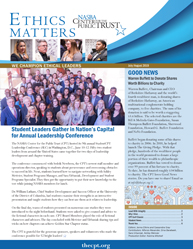 Donald H. Burkett serves as CPT chairman and is a proud supporter of the organization.
Why did you first give to the NASBA Center for the Public Trust (CPT)?
I believe in the CPT's mission and every dollar contributed allows the organization to touch more lives. The CPT staff truly makes a difference!
What do you believe would transform ethical leadership the most?
Leaders who not only talk about ethical leadership but lead by example. My dad was the most ethical man I have ever known by the example he set for his children.
To be kind to people, he always was
To reach out and help people who needed help, he always did
Do not talk bad about people, he never did
Earn a day's wage, he always did
We need ethical leaders who "walk the walk."
Who is an ethical leader you look up to? Lou Holtz was the head football coach at University of South Carolina, and I admire his ethics. My favorite quote of his is, "I follow three rules: do the right thing, do the best you can, and always show people you care."
Why do you continue to give toward the CPT's mission?
I want to support the CPT's wonderful staff and help give them the monetary resources to succeed.