Ethics Matters
July/August 2019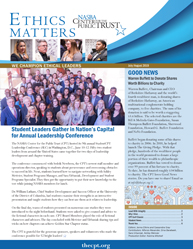 The NASBA Center for the Public Trust (CPT) hosted its 9th annual StudentCPT Leadership Conference (SLC) in Washington, D.C., June 10-12. Fifty-two student leaders from around the United States came together for two days of leadership development and chapter training.
The conference commenced with CPT's newest staff member and Operations Director, Sedrik Newbern, speaking to students about speaking about perseverance and overcoming obstacles to succeed in life. Next, students learned how to navigate networking with Ashley Metivier, Student Programs Manager, and Sara Urbaniak, Development and Student Programs Specialist. They then got the opportunity to put their new knowledge to the test while joining NASBA members for lunch.
Dr. William Latham, Chief Student Development and Success Officer at the University of the District of Columbia, had students examine their strengths in an interactive presentation and taught students how they can best use them as it relates to leadership.
On the final day, teams of students presented on numerous case studies they were introduced to the night beforehand. Students were asked to give counsel and advice to the fictional characters in each case. CPT Board Members played the role of fictional characters and advisors. The day concluded with Metivier and Urbaniak sharing tips and tricks on how chapters can achieve Golden Star Chapter status.
The CPT is grateful for the generous sponsors, speakers and volunteers who made the conference possible for 52 bright leaders!