Ethics Matters
July/August 2019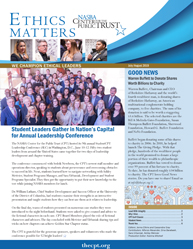 On July 8, the NASBA Center for the Public Trust (CPT) hosted a golf fundraiser at The Governor's Club in Brentwood, TN. Twelve teams competed in a scramble tournament to help support student chapter programs across the nation. Those in attendance included current and past chair of the CPT, Donny Burkett and David Costello (2012 – 2018), current members of the NASBA Board of Directors, Jimmy Burkes (Treasurer) and Mike Fritz (Secretary), past chair of NASBA, Michael Daggett (2010 – 2011), NASBA employees, and business professionals representing the Middle Tennessee area.
Special thanks to the event sponsors, hole sponsors and players: RN'B PARTS, CGI, Smokin sensations.
If you are interested in participating in next year's tournament, please contact Sara Urbaniak at surbaniak@thecpt.org or info@thecpt.org for sponsorship and event details.