Ethics Matters
May/June 2019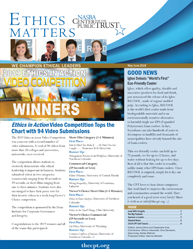 The 2019 Ethics in Action Video Competition was a success with a record number of video submissions. A total of 94 videos from more than 20 colleges and universities, nationwide, were received.
The competition allows students to creatively demonstrate why ethical leadership is important in business. Students submitted videos in two categories; commercials ranging from 30 seconds to 59 seconds, or short films ranging from one to three minutes. Students were also encouraged to have their peers vote for their favorite videos in a week-long Viewer's Choice competition.
The competition is sponsored by the Dean Institute for Corporate Governance
and Integrity.
Congratulations to the 2019 winners and all of the teams that participated.
Short Film Category (1-3 Minutes)
First Place:
Fake It Until You Make It … Or Until You Get
Caught … , Tennessee Tech University
Runner Up:
Management Pressure in the Workplace, University of Northern Colorado
Commercial Category
(59 Seconds or Less)
First Place:
Ethnic Dilemma, University of Central Florida
Runner Up:
Hiring Inequality, University of Louisiana, Lafayette
Viewer's Choice Short Film (1-3 Minutes)
First Place:
Ethics in Data Analysis, University of Northern Colorado
Runner Up:
Ethics in the Small Things, Ohio University
Viewer's Choice Commercial
(59 Seconds or Less)
First Place:
Get Ethics, University of Wyoming
Runner Up:
Common Conflicts of Interest, University of Northern Colorado