Ethics Matters
January 2019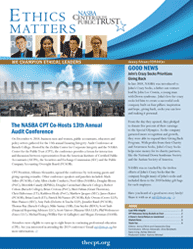 On December 4, 2018, business men and women, public accountants, educators and policy setters gathered for the 13th annual Ensuring Integrity: Audit Conference at Baruch College. Hosted by the Zicklin Center for Corporate Integrity and the NASBA Center for the Public Trust (CPT), the conference provides a forum for interaction and discussion between representatives from the American Institute of Certified Public Accountants (AICPA), the Securities and Exchange Commission (SEC) and the Public Company Accounting Oversight Board (PCAOB).
CPT President, Alfonzo Alexander, opened the conference by welcoming guests and giving opening remarks. Other conference speakers and panelists included: Mark Adler (PCAOB); Cathy Allen (Audit Conduct); Noel Allen (NASBA); Douglas Bloom (PwC); Meredith Canady (KPMG); Douglas Carmichael (Baruch College); Robert Colson (Baruch College); Brian Croteau (PwC); Sheri Fabian (Grant Thornton); Chris Halterman (EY); Kathleen Healy (PwC); Matthew Jacques (SEC); James Kaiser (PCAOB); Brian Lunch (EY); Patrick McNamee (PCAOB); Kyle Owens (Crowe LLP); Marc Panucci (SEC); Amy Park (Deloitte & Touche LLP); Jennifer Rand (PCAOB); Thomas Ray (Baruch College); Mike Santay (ASB); Lisa Snyder (BDO); Scott Taub (Financial Reporting Advisors LLC); Scott Univer (Mazaras USA LLP); Phil Wedemeyer (Ensco LLC); Michael Young (Willkie Farr & Gallagher) and Megan Zietsman (IAASB).
Attendees were eligible to earn up to eight hours in continuing professional education (CPE). Are you interested in attending the 2019 conference? Email info@thecpt.org for more information.