Ethics Matters
January 2019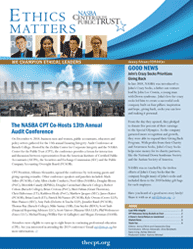 Temple University Sees the Importance of Ethics Through For Eyes
Temple University StudentCPT members were treated to an interactive conversion with Professor Daniel E. Goldberg, founder of the national optical chain For Eyes. Goldberg spoke to students about the importance of ethics and how maintaining ethical business practices can sustain a successful business.

Home Depot CFO Encourages Auburn Students to Practice Ethics
Approximately 150 students joined the Auburn University StudentCPT chapter for a discussion with Carol Tome, CFO of Home Depot. Tome discussed the importance of a strategic and ethical organizational culture at Home Depot and some of her personal experiences overcoming ethical dilemmas.
ULL Students Discuss Ethics in Their Favorite Movies
University of Louisiana, Lafayette, StudentCPT members came together and had a discussion about ethical dilemmas in some of their favorite movies. Conversations of heroism and leadership were discussed in popular movies, such as The Avengers, Black Panther, Transformers and Harry Potter.