Ethics Matters
January 2019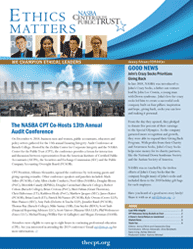 In late 2018, NASBA was introduced to John's Crazy Socks, a father-son venture lead by John Lee Cronin, a young man with Down syndrome. John's love for crazy socks led him to create a successful sock company built on four pillars: inspiration and hope, giving back, socks you can love and making it personal.
From the day they opened, they pledged to donate five percent of their earnings to the Special Olympics. As the company garnered more recognition and growth, they were able to expand their Giving Back Program. With profits from their Charity and Awareness Socks, John's Crazy Socks helps raise money for its charity partners, like the National Down Syndrome Society and the Autism Society of America.
NASBA was so touched by the tireless efforts of John's Crazy Socks that the company bought many of John's socks and included them in the 2018 holiday gift bags for each employee.
Have you heard of a good news story lately? Share it with us at info@thecpt.org.