Ethics Matters
January 2019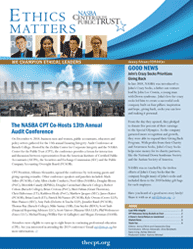 During the start of a new year, you may take time to look closely at your personal return on investments, like the value of your home or your retirement plan. Do you ever wonder about your return on donations? As a NASBA Center for the Public Trust (CPT) donor, not only are you investing in students and their ethical leadership skills, you are also investing in the development of volunteer work and community relationships fostered by StudentCPT chapters.
Let's look at a donor's social return on investing in StudentCPT chapters:
Tennessee Technological University raised funds and packed gifts for Operation Christmas Child, which supports children of low-income families during the holiday season.
East Central University collected over 2,500 books and donated them to schools and outreach centers in the community.
Valdosta State University participated in the Adopt-A-Road program with Beta Alpha Psi, disposing of trash and debris on a local highway.
The University of Alabama at Birmingham volunteered at a local women's community center, dedicated to women rebuilding their lives.
The University of Delaware aided in preliminary and day of tasks for a 5K, which supported the Special Olympics.
Truman State University partnered with Rotaract and sold pretzels on campus. All proceeds went to the Make-A-Wish Foundation. In addition, students participated in Trunk or Treat, providing a safe environment for kids to trick-or-treat on Halloween.
Marshall University collected canned goods for a local food bank.
Ohio University partnered with Beta Alpha Psi and removed invasive autumn olive shrubs
from Wayne National Forest.
These are just a few of the ways your support is allowing our students to make a impact in unique areas of need. Celebrate your social return on your investments!