Ethics Matters
July-August 2017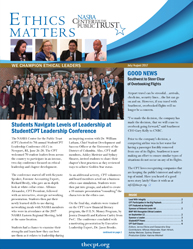 The NASBA Center for the Public Trust (CPT) hosted its 7th annual StudentCPT Leadership Conference (SLC) in Newport, RI, June 26-28. The CPT welcomed 70 student leaders from across the country to participate in an intense, two-day conference focused on ethical leadership and chapter development.
The conference started off with Keynote Speaker, Forensic Accounting Expert, Richard Brody, who gave an in-depth look at white collar crime. Alfonzo Alexander, CPT President, followed with an interactive, strategic networking presentation. Students then put their newly learned skills to use during networking meals with NASBA members who were in attendance at the 2017 NASBA Eastern Regional Meeting, held
at the same location.
Students had a chance to examine their strengths and learn how they can best use them as it relates to leadership during an inspiring session with Dr. William Latham, Chief Student Development and Success Officer at the University of the District of Columbia. Also, CPT staff members, Ashley Metivier and Sydney Shearer, invited students to share their chapter's best practices as they reviewed ways to achieve Golden Star status.
As an additional activity, CPT volunteers and board members acted out a business ethics case simulation. Students were then put into groups, and asked to create a 10-minute presentation "consulting" the characters in the ethics case.
On the final day, students were trained on the CPT's new financial literacy program, the F.U.N. Money Program, by Jessica Donatelli and Kathren Curley from PwC. The conference concluded with a motivating presentation by Executive Leadership Expert, Dr. Jason Brooks.
The CPT is grateful for the generous sponsors, speakers, board members and volunteers who made this conference possible, and thanks the students for their participation, engagement and professionalism.
The valuable takeaways, sharing of best practices and networking are sure to position each StudentCPT chapter represented on a successful path in the coming school year.