Ethics Matters
July-August 2017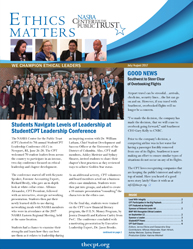 CPT Participates in The Big Payback
This May, the NASBA Center for the Public Trust (CPT) participated in The Big Payback, which promotes online giving for 24 hours in support of local nonprofits in the middle Tennessee area. The day kicked off with a pep rally themed event that featured food trucks, local radio stations, poster contests and more. Members of the CPT staff were also featured in a radio interview and a Facebook Live interview.
CPT Featured as Nonprofit Sponsor at Network Under 40
In May, the NASBA Center for the Public Trust (CPT) was featured as the nonprofit sponsor at the Network Under 40 event, which featured nearly 130 of Nashville's bright young professionals. CPT staff mingled with young professionals in industries including medical, tech, fashion and academia, and discussed CPT professional programming as well as the importance of ethical leadership in every industry.
BWP will Recognize Ethical Leaders on September 12
The NASBA Center for the Public Trust (CPT) is excited to once again team up with the Dean Institute for Corporate Governance & Integrity at Lipscomb University for the 2017 Business with Purpose Awards celebration. Business with Purpose recognizes Nashville area business leaders and companies, for profit and nonprofit, that demonstrate a strong commitment to ethical leadership and corporate social responsibility. The celebration will take place on September 12, 2017, at the Music City Center in Nashville, TN.