Ethics Matters
May-June 2017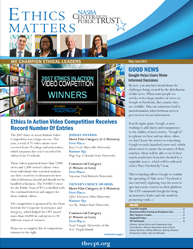 By now, you may have heard about the challenges being created by the distribution of fake news. When some people see articles with a large number of views on Google or Facebook, they assume they are credible. This can sometimes lead to misinformation when fictitious news is perceived as factual information.
Search engine giant, Google, is now working to add clarity and transparency to the validity of news stories. "Google it" is a phrase we hear and say often, when we don't know the answer to something. Google recently launched a new tool, which allows users to ensure the accuracy of their searches. Users will be able to see if their search results have been fact checked by a reputable source, which will be indicated with a "Fact Checked By:" icon.
This technology allows Google to combat the spreading of "fake news." Facebook is also currently exploring ways for users to spot inaccurate content on their platform. The CPT commends Google for being an innovative leader and role model in promoting truth.