Ethics Matters
November – December 2016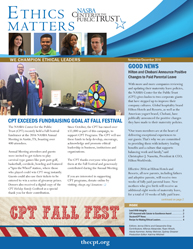 With more and more companies reviewing and updating their maternity leave policies, the NASBA Center for the Public Trust (CPT) gives kudos to two corporate giants that have stepped up to improve their company cultures. Global hospitality brand Hilton Hotels and Resorts, as well as the American yogurt brand, Chobani, have publically announced the positive changes they have made to their maternity policies.
"Our team members are at the heart of delivering exceptional experiences to our guests. That's why we are committed to providing them with industry-leading benefits and a culture that supports balancing work and family," said Christopher J. Nassetta, President & CEO, Hilton Worldwide.
Effective 2016 at Hilton Hotels and Resorts, all new parents, including fathers and adoptive parents, will receive two weeks of fully paid parental leave. New mothers who give birth will receive an additional eight weeks of maternity leave, for a total of 10 weeks of fully paid leave.
The benefits will be available to team members at owned and managed hotels, and corporate offices after one year of service or greater.
Chobani announced that starting in 2017, the company will offer six weeks of 100 percent paid parental leave for all full-time, hourly and salaried employees, both mothers and fathers. Chobani's policy is open to all new parents who have given birth, adopted, or been placed with a foster child — not just mothers who have recently given birth.
The CPT loves recognizing companies that are setting great examples in their industries. Have you heard of a good news story lately? Do you have a company you would like to highlight? Share it with us
at info@thecpt.org.