Ethics Matters
October 2016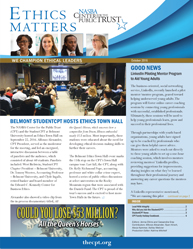 CPT Launches Two New StudentCPT Chapters
The CPT is excited to welcome the University of Louisiana at Lafayette (ULL) and Colorado Mesa University (CMU) as its newest StudentCPT chapters. ULL held its chapter kickoff meeting on September 28, 2016, and CPT President, Alfonzo Alexander, provided students with tips for navigating ethical dilemmas, early in their careers.
CMU held its chapter kickoff meeting on October 5 – 6, 2016. CPT Board Member, Cynthia Cooper, and CPT Operations Manager, Ryan Hirsch, both spoke to students about the importance of making ethical decisions, during this two-day event. The CPT is currently working with several additional schools to establish new chapters, this semester.
CPT Supports Chapters Through Flash Chats
In addition to creating new chapters, the CPT is also working to enhance the effectiveness of its existing chapters. In August, the CPT launched a Flash Chat webinar series, which provides StudentCPT officers and advisors with tips and strategies for leading their chapters. These sessions are being recorded and posted on the StudentCPT website for students and professors who are unable to attend the live sessions.
To see a full list of upcoming Flash Chats, visit studentcpt.org/news/.
SEMO Hosts Ethics Simulation
The StudentCPT Chapter at Southeast Missouri State University (SEMO) recently hosted an ethics simulation event on September 28, 2016. Students were divided amongst four groups and they were tasked with finding the best solutions to a proposed ethical dilemma. This meeting served as the first StudentCPT chapter meeting of the semester. New members were invited to learn more about the StudentCPT mission, chapter program and StudentCPT Leadership Conference.