Ethics Matters
October 2016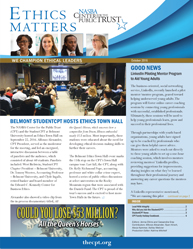 The business-oriented, social networking service, LinkedIn, recently launched a pilot mentor/mentee program, geared toward helping underserved young adults. The program will foster online career coaching sessions by connecting young professionals with successful, established professionals. Ultimately, these sessions will be used to help young professionals learn, grow and succeed in their professional lives.
Through partnerships with youth-based organizations, young adults have signed up to be coached by professionals who can give them helpful career advice. Mentors were asked to reach out directly to these young adults to set up a one-hour coaching session, which involves mentors reviewing mentees' LinkedIn profiles, providing suggestions for improvements, sharing insights on what they've learned throughout their professional journey and answering any career questions the mentees may have.
A LinkedIn representative mentioned, "We are running this pilot to test our hypotheses: that we can connect our incredible LinkedIn members to opportunities to mentor young adults from disadvantaged backgrounds. The results of this pilot will be used by LinkedIn to better understand how we can help our members connect to mentors and/or mentees."
We've chosen to highlight LinkedIn because of their efforts in creating this pilot program that allows young professionals to connect with seasoned professionals in order to foster business relationships. At the CPT, we are always looking for good news stories throughout the business community. What good news story do you have? What can you do today to impact tomorrow's leaders?