Ethics Matters
October 2016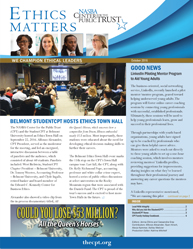 The NASBA Center for the Public Trust (CPT) and the StudentCPT at Belmont University hosted an Ethics Town Hall on September 22, 2016. Alfonzo Alexander, CPT President, served as the moderator for the meeting, and led an energized, interactive discussion between a table of panelists and the audience, which consisted of about 60 students. Panelists included: West Bielstein, StudentCPT Chapter President – Belmont University, Dr. Tommy Wooten, Accounting Professor – Belmont University, and Clyde Ingalls, retired banker and board member of the Edward C. Kennedy Center for Business Ethics.
Alexander also showed a video clip from the in-process documentary titled, All the Queen's Horses, which uncovers how a comptroller from Dixon, Illinois embezzled nearly $53 million. Most importantly, these students were educated about the need for developing ethical decision-making skills to further their careers.
The Belmont Ethics Town Hall event marks the 11th stop on the CPT's Town Hall campus tour. Last fall, the CPT, along with Dr. Kelly Richmond Pope, accounting professor and white collar crime expert, hosted a series of public ethics discussions at select universities in the Rocky Mountain region that were associated with the Daniels Fund. The CPT is proud of the tour's success and is excited to host more Town Halls in the future.