Ethics Matters
January/February 2016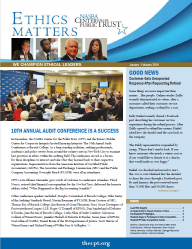 College students and young professionals face ethical business dilemmas on a daily basis. Their responses to these situations will impact the future of America. Will they be ready to make the right decisions? Will they be able to handle the increased pressures of their future careers? With so many unknowns, it is comforting to know one thing is constant, students and professionals involved in our ethical leadership movement are more likely to succeed in today's complex business environment.
As the CPT continues implementing exciting new programs and initiatives, we remain focused on our mission of championing the public trust by advancing ethical leadership in business institutions and organizations.
We cannot carry out our mission without your support. Please consider making one of your 2016 New Year's resolutions to support ethical leadership, by supporting the NASBA Center for the Public Trust. Giving is easy, click here to donate!