Ethics Matters
September/October 2015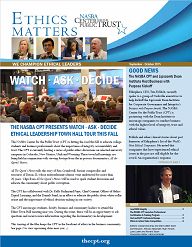 Ethical leaders achieve the ultimate victory in business and that comes from a variety of sources. Yes, business leaders win by achieving results, accomplishing goals and growing their businesses. However, the ultimate victory ethical leaders achieve comes when they win in those ways because they are leading with a foundation based on ethics and integrity.
It is truly refreshing when I hear stories of leaders who have achieved great success while being careful to lead with a focus on ethical behavior. I am very intrigued by a study by Fred Kiel and his team of contrasting leaders identified as highly ethical compared to other leaders. The study shows that the business results (return on assets to be specific) of the ethical leaders' companies were five times greater than the other leaders. Results like these encourage me. They also prove to me that ultimate victory in business comes when leaders lead with integrity.
Even beyond the business results, employees throughout the organization share in the victory of ethical leaders. In companies with ethical leaders throughout its workforce, employee engagement, retention and satisfaction is much higher. After all, every follower wants leadership from an ultimate winner.
So I ask you this question: Are you achieving the ultimate victory in your business? Here is a quick litmus test to find out:
Do you go to bed each night feeling the decisions you made that day were the right things to do?

Will the people you lead serve as witnesses that you try to do what is best in your decision-making?

Finally, are your business results better today than this time last year?
If your answer is "yes" to all three, keep up the good work. If you cannot answer all three with a "yes," now you have some new benchmarks to use.
I am fighting for the ultimate victory in business. I encourage you to continue to fight in yours. The rewards are worth the extra effort
— As Always, Lead With Integrity!
Alfonzo Alexander
President, CPT
CRO, NASBA