Ethics Matters
March/April 2015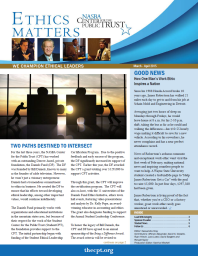 The Ethics in Action Viral Video Competition is officially underway, and students are using their creativity to produce videos that showcase the importance of ethics in business.
However, students aren't the only ones who can participate. After all student entries are received, four winners will be selected by a panel of judges, while four different viewer's choice award winners will be selected by the public. This is your chance to get involved.
Between March 30 – April 6, we encourage you to visit StudentCPT.org to watch all of the videos and vote for your favorite. In addition to seeing some funny, thought-provoking and entertaining videos, casting your vote allows you to show students that you value their creativity and interest in ethical leadership.