Ethics Matters (May-June 2012)
Ohio University Kicks Off Student CPT Membership in Record Numbers
Ohio University in Athens, OH, is widely known for several things, including its scenic hillside campus.
Chartered by the state of Ohio in 1804, Ohio University is the oldest university in the Northwest Territory. Making the U.S. News and World Report's Best Colleges list in 2012, the university is known for its strong academic reputation, including great programs in journalism and education.
On April 9, Ohio University added another accomplishment to its growing list when it became the sixth school to charter a Student Center for the Public Trust chapter. The university also set a Student CPT record for a chapter kick-off meeting with almost 200 attendees!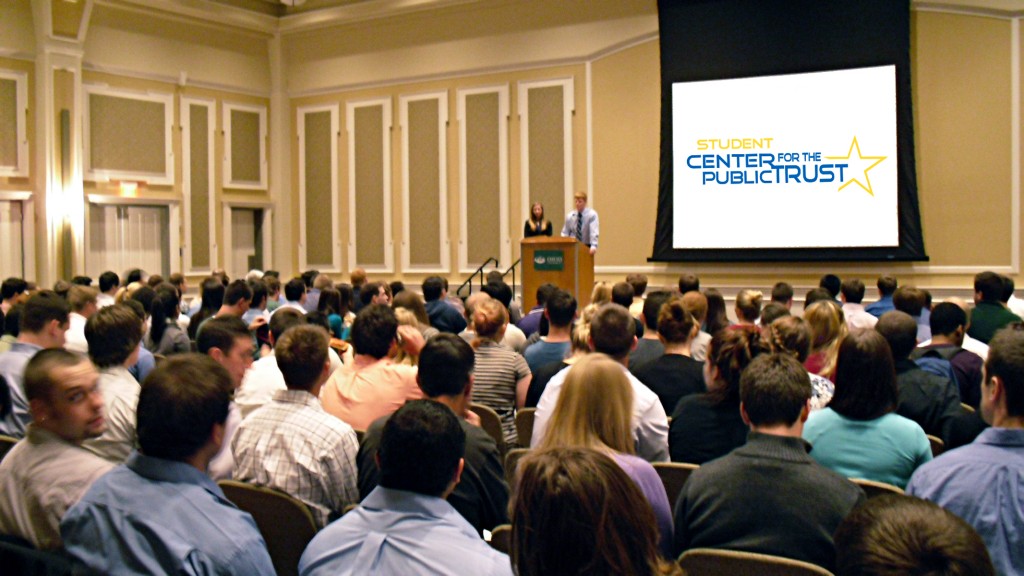 The meeting began with opening remarks by chapter president Dillon Leary, who spoke about what is expected of his chapter and its goals and aspirations for the immediate future. Leary said he is thrilled to serve as chapter president for a student organization that does so much to promote ethics in the business world. "The Student CPT is a great place for fostering ethical professionals for the future, and I am extremely glad to be a part of it," said Leary. "I hope it continues to have a lasting effect on students for years to come."
Alfonzo Alexander, CPT President and NASBA's Chief Relationship Officer, served as the meeting's guest speaker, delivering an interactive presentation about the real world of business and ethical challenges leaders often face. Alexander also hosted a Q&A with the students.
Also in attendance was CPT Board Member Jerry Esselstein, who received his BBA in Accounting and Interpersonal Communications from Ohio University. He also serves on the Executive Advisory Board to the College of Business at Ohio University. Esselstein said he could not be more pleased with his alma mater's representation at the kick-off meeting.
"Having graduated from Ohio University and currently serving on advisory boards to the College of Business and the School of Accountancy, it gives me great pride and personal satisfaction that OU is the first Student CPT chapter in Ohio," said Esselstein. "The goals of the Student CPT program and the College of Business align perfectly. Thank you to the students and faculty who so enthusiastically welcomed the mission of the CPT."
Congratulations to Ohio University for such a strong start in the Student CPT. Keep up the good work!