Ethics Matters
August 2022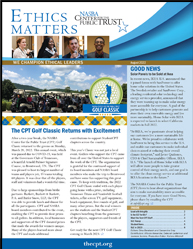 After a two-year break, the NASBA Center for the Public Trust (CPT) Golf Classic returned to the greens on Monday, March 28, 2022. This annual event, which was paused due to COVID-19, was held at the Governors Club of Tennessee, a beautiful Arnold Palmer Signature Course, in Brentwood, TN. The CPT was pleased to host its largest number of teams and players yet, 15 teams totaling 60 players. It was clear that all the players, staff and volunteers had a wonderful time.
Due to large sponsorships from birdie partners: Burkett, Burkett & Burkett, P.A. and Butler Snow, LLP, the CPT was able to provide lunch and dinner for all the participants. CPT and NASBA board members contributed to the event, enabling the CPT to provide door prizes to all golfers. In addition, local businesses and supporters of the CPT donated prizes that made the awards for winners unique. Many of the players learned more about the CPT and made additional contributions to support StudentCPT chapters across the country.
This year's Classic was not just a local event. Golfers who support the CPT came from all over the United States to support the work of the CPT. The organization is grateful for the continued support of its board members and NASBA board members who make the trip to Brentwood and have some fun supporting this great cause. To keep with tradition, the 2022 CPT Golf Classic ended with each player going home with a prize, including Tennessee Titans and Vanderbilt football tickets, a flat screen TV, golf equipment, beach equipment, free rounds of golf, and many other prizes. But the real winners are the students and the StudentCPT chapters benefiting from the generosity of the players, supporters and friends of the CPT.
Get ready for the next CPT Golf Classic coming in March 2023.