Ethics Matters
August 2022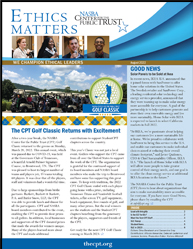 Within StudentCPT chapters, courses range from being taught fully in-person, hybrid a few times a week or strictly virtual. These circumstances are ever-changing and sometimes force students to go from virtual to in-person within the same month. Communication, trust and guidance have taken a new role when tying ethics in business and navigating life. Email, phone calls and virtual meetings demand a new respect in being accountable and reliable when the next time seeing a coworker or fellow student may be unknown. The NASBA Center for the Public Trust (CPT) is seeing students express themselves through the Ethics in Action competition with video topics that relate to working remotely or The Being a Difference Award going to students and faculty who lead and encourage their teams to take the new normal head-on and become innovative in building engagement.
University of Guam's Program
The University of Guam is a prime example of a StudentCPT chapter that communicates, is creative and always executes. With Guam's time difference being about 15 hours ahead, most of the CPT's interaction with Guam is via email. With time just being one of the many differences, members of the Guam chapter still find ways to work around adversity and turn in StudentCPT chapter reports on time, gather fellow students and faculty to submit an Ethics in Action video for competition, and send two students to their first StudentCPT Leadership Conference (SLC) in Colorado. Katrina Tahimik and Sheena Miranda were able to attend the SLC this year while stopping in Japan, San Francisco, and had extra time to stay a few days after the conference to explore the state of Colorado.
Congratulations to the 2022 Ethics in Action Video Competition winners!
Students from across the country were invited to submit commercials and short films for a chance to win up to $1,000 in prizes. The competition was split into two judging sequences; Viewer's Choice – where peers, family members and CPT supporters voted for their favorite videos and Judge's Choice – where volunteers were asked to review videos and score them based on originality, clarity, relevance and critical thinking skills. This year, 64 videos were submitted and over 500 votes were cast during the Viewer's Choice Voting Week.
SHORT FILM CATEGORY (1-3 MINUTES)
Judge's Choice Short Film (1-3 Minutes)
1st Place Grand Prize ($1,000)
Retaliation in the Workplace, University of New Mexico
Runner Up ($500)
The Time Thief, Texas State University
Viewer's Choice Short Film (1-3 Minutes)
First Place ($700)
The Bribe: What Would You Do, Texas State University
Runner Up ($300)
Facing Pressure from your Superior, Colorado Mesa University
COMMERCIAL CATEGORY (59 Seconds or Less)
Judge's Choice Commercial (59 Seconds or Less)
First Place ($800)
The Big Dilemma, Maryville University
Runner Up ($400)
Gender Discrimination, Marshall University
Viewer's Choice Commercial (59 Seconds or Less)
First Place ($500)
Respecting Gender Identity in the Workplace, New Mexico
Runner Up ($200)
Favoritism in the Workplace, Tennessee Tech University