Ethics Matters
August 2022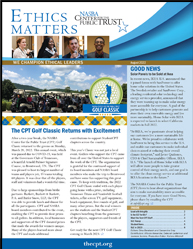 In recent news, IKEA U.S. announced that it joined forces with SunPower to offer home solar solutions in the United States. The Swedish retailer and SunPower Corp., a leading residential solar technology and energy services provider, announced that they were teaming up to make solar energy more accessible for everyone. A goal of the partnership is to help customers generate and store their own renewable energy and live more sustainably. Home Solar with IKEA is expected to launch in select California markets in Fall 2022.
"At IKEA, we're passionate about helping our customers live a more sustainable life at home. We're proud to collaborate with SunPower to bring this service to the U.S. and enable our customers to make individual choices aimed at reducing their overall climate footprint," said Javier Quiñones, CEO & Chief Sustainability Officer, IKEA U.S. "The launch of Home Solar with IKEA will allow more people to take greater control of their energy needs, and our goal is to offer the clean energy service at additional IKEA locations in the future."
The NASBA Center for the Public Trust (CPT) loves to hear about organizations that aim to make sustainability more accessible for everyone. If you have more Good News, please share by emailing the CPT at info@cpt.org.