Ethics Matters
Q2 2020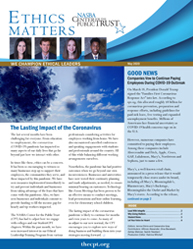 Life has been challenging for our students adjusting to new ways of learning and staying connected. Our professionals have been impacted as well from businesses restructuring, facing workforce reductions, and even worse, having to shut down.
The question is how do we move forward from here?
The NASBA Center for the Public Trust (CPT) was created with the mission of championing the public trust by advancing ethical leadership in business, institutions and organizations.
In times like this, our mission couldn't be more important.
Throughout this pandemic, we have continued to support our students and professionals, and we will continue to do so in the weeks and months ahead as we continue to recover. Your continued support of our efforts to promote and advance ethics is not only appreciated, but needed now more than ever.
Make your contribution today by visiting www.thecpt.org/donations.
You can also contribute by mailing a check to:
NASBA Center for the Public Trust
P.O. Box 306272,
Nashville, TN 37230