Ethics Matters
Q2 2020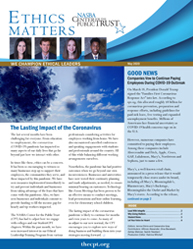 On March 18, President Donald Trump signed the "Families First Coronavirus Response Act" into law. According to
npr.org, this allocated roughly $8 billion for coronavirus prevention, preparation and response efforts, including guidelines for paid sick leave, free testing and expanded unemployment benefits. Millions of Americans face financial uncertainty as COVID-19 health concerns rage on in
the U.S.
However, numerous companies have committed to paying their employees. Among these companies include Abercrombie and Fitch, Apple, Crocs, GAP, Lululemon, Macy's, Nordstrom and Sephora, just to name a few.
Macy's, a well-known retail chain, announced in a press release that it would temporarily close stores under its brand, including all Macy's, Bloomingdale's, Bluemercury, Macy's Backstage, Bloomingdales the Outlet and Market by Macy's stores. According to the release, Macy's, Inc. will provide benefits and compensation to its impacted workforce. "We will work with government and health officials to assess when we will reopen our stores and safely bring our colleagues back to work," said Jeff Gennette, chairman and chief executive officer of Macy's, Inc.
As families around the world continue to stay abreast of new information almost daily, and with concerns that the pandemic will continue into the months ahead, homes across America have newfound worries. With the help of the companies previously listed, and many not on the list, corporations are reinforcing what many already know – that a company is only as great as its employees and we must take care of each other. Even in uncertain times, you can do the right thing and help a relative, employee, neighbor, stranger or friend. Remember, we must continue to care for one another.