Ethics Matters
Q1 2020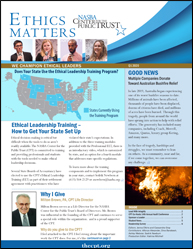 Milton Brown, PA, CPT Life Director
Milton Brown serves as a Life Director for the NASBA Center for the Public Trust's Board of Directors and is a proud supporter of the CPT. Mr. Brown was influential in the founding of the CPT and continues to serve a special role within the organization.
Why do you give to the CPT?
I feel attached to the CPT. I feel strong about the important work the CPT does. For me, it's like planting seeds. You must nurture what was planted to get the results you desire and that's exactly what the CPT does. The sooner you plant seeds, the sooner you get the right results. By planting seeds with students, we can direct their paths to make ethical decisions in the future.
I couldn't be prouder to be a part of this organization. The CPT is a dream come
true. The organization has grown so much since we first made the decision to start it. It's just unbelievable to see all the schools and students we are impacting through the CPT. This is why I give!