Ethics Matters
Q1 2020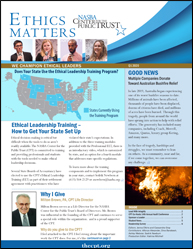 On December 3, 2019, 175 professionals, business leaders, public accountants, educators and policy setters gathered for the 14th annual Ensuring Integrity: Audit Conference at Baruch College in New York, NY. Attendees included partners from the Big 4 accounting firms. Hosted by the Zicklin Center for Corporate Integrity and the NASBA Center for the Public Trust (CPT), the conference provides a forum for interaction and discussion between representatives from the American Institute of Certified Public Accountants (AICPA), the Securities and Exchange Commission (SEC) and the Public Company Accounting Oversight Board (PCAOB). The conference will be featured in the 2020 February and March issues of the The CPA Journal.
CPT President, Alfonzo Alexander, opened the conference by welcoming guests and giving opening remarks. The program was headlined by William Duhnke, III, recently appointed chair of the PCAOB. Other conference speakers and panelists included: Noel Allen (NASBA), Beverley Bahlmann (IAASB), Ami Beers (AICPA), Brandon Brown (Deloitte & Touche LLP), Douglas Carmichael (Baruch College), Bob Dohrer (AICPA), William Duhnke, III (PCAOB), Jeremy Goss (Grant Thornton), Ronald Hauben (EY), Susan Jones (KPMG LLP), Jeff Mahoney (CII), Caludius Modesti (Akin Gump), Shawn O'Brien (Thomson Reuters), Marc Panucci (SEC), Thomas Ray (Baruch), Mike Santay (ASB), Tom Seidenstein (IAASB), Lisa Smith (AAS), Jagruti Solanki (Aprio), Amy Steele (Deloitte), Kirsten Vosen (Deloitte), and Megan Zietsman (PCAOB).
Attendees were eligible to earn up to eight hours in continuing professional education (CPE). Are you interested in attending the 2020 conference? Email info@thecpt.org for more information.