Ethics Matters
Nov/Dec 2019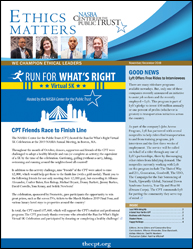 Oklahoma State University
StudentCPT members heard from Wes Colwell, former chief accounting officer of
Enron North America, who discussed ethical dilemmas he faced throughout his career
and how he navigated through them.
East Central University
Earlier this semester, East Central University StudentCPT members teamed up with the Stonecipher School of Business and Oklahoma Society of CPAs to host the 6th Annual OSCPA Meet Up. Accounting students participated in a career fair followed by a panel discussion that featured practicing accountants with varied professional backgrounds.
The chapter hosted a booth at the career fair and encouraged membership.
Tennessee Tech University
Tennessee Tech University StudentCPT recently hosted a bake sale. Funds collected from the bake sale will go toward an organization near and dear to their hearts, Operation Christmas Child. This is the chapter's second year supporting Operation Christmas Child and they raised $100 which will pack 12 boxes!