Ethics Matters
Nov/Dec 2019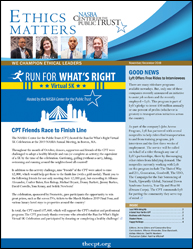 The NASBA Center for the Public Trust (CPT) hosted the Run for What's Right Virtual 5K Celebration at the 2019 NASBA Annual Meeting, in Boston, MA.
Throughout the month of October, donors, supporters and friends of the CPT were challenged to adopt a healthy lifestyle and run (or complete an activity) the equivalent of a 5K by the time of the celebration. Gardening, golfing (without a cart), hiking, swimming and running around the neighborhood all counted!
In addition to this activity challenge, nine "friends" of the CPT were asked to raise $2,000, which would help get them to the finish line (with a gold medal). Thank you to the following friends for not only meeting your $2,000 goal, but exceeding it: Alfonzo Alexander, Coalter Baker, Ken Bishop, Michael Bryant, Donny Burkett, Jimmy Burkes, David Costello, Tom Kenny, and Sedrik Newbern!
The celebration, sponsored by Prometric, gave participants the opportunity to win great prizes, such as flat screen TVs, tickets to the March Madness 2019 Final Four, and various luxury hotel stays to properties around the country!
In total, the CPT raised $37,460, which will support the CPT's student and professional programs. The CPT graciously thanks everyone who attended the Run for What's Right Virtual 5K Celebration and participated by donating or completing a healthy challenge!