Ethics Matters
Nov/Dec 2019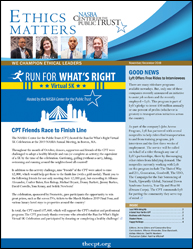 With the holiday season approaching and 2019 coming to a close, the NASBA Center for the Public Trust (CPT) team would like to thank you for the support you've provided the CPT this year. The CPT's success is directly attributed to the incredible volunteer leaders and contributions received throughout the year. Your gifts of time and resources continue to make a lasting impact on the lives of
young students and professionals across the United States.
Last fiscal year, the CPT had 4,977 students enrolled in the Ethical Leadership Certification Program, which means more than 10,000 students have been certified since the program's launch. Additionally, the CPT now has 46 StudentCPT Chapters, with three chapters coming on board in the coming months. These milestones were made possible because of your generous support!
As we look forward to celebrating with friends and family this holiday season and anticipate what's ahead for 2020, the CPT team hopes you will be a part of this organization's continuous growth. Your support will ensure that the CPT continues to advance ethical leadership and champion the public trust.
Make your contribution today by visiting www.thecpt.org/donations. You can also contribute by mailing a check to:
NASBA Center for the Public Trust
P.O. Box 306272,
Nashville, TN 37230