Ethics Matters
May/June 2019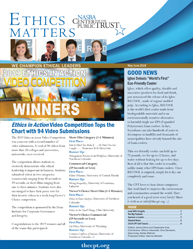 The Class of 2019 agents have been selected for the StudentCPT Leadership Conference. Their mission is to develop their decision-making skills, empower others through strong leadership, and promote ethical business practices. See what our agents are all about.
Name: Xhena
University: Temple University
Major: International Business and Marketing
Minor: Spanish
Looking forward to: "Meeting other people in my field who are passionate about ethical and transparent business practices."
Name: Winston
University: University of Missouri-Columbia
Major: Finance
Looking forward to: "Being able to network with fellow conference attendees and with NASBA Members."
Name: Jay
University: Southeast Missouri State University
Major: Human Resource Management
Minor: Finance and Entrepreneurship
Looking forward to: "Learning new skills that will help me develop more into a leader. Also, I look forward to networking with other students from different campuses, and I'm excited to learn new leadership qualities that can help grow my chapter."
Name: Jalimar
University: Rutgers University
Major: Accounting
Looking forward to: "What I am looking forward to is meeting a variety of different people from so many different backgrounds. The diversity within a single organization is extraordinary and I am excited to learn many different things from so many people."
The Sponsor a Leader campaign provides the necessary funds to support our agents, including student travel, airport transportation, hotel accommodations, meals at the conference, and materials. Help make their #MissionPossible today by visiting www.thecpt.org/sponsor or contacting info@thecpt.org.