Ethics Matters
May/June 2019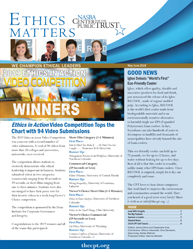 In 1994, I was fortunate enough to be selected to run my first small business. During my initial meetings with board members, one of them gave me some invaluable advice that is relevant to any leader. He told me that the pace of this business is fast, and I should decide to lead the business or the business would lead me.
That day, I decided to lead rather than be led by the business. As ethical leaders, we are often faced with decisions that position us to lead or be led by the environment around us. I propose that we should assess the situation and choose to influence and lead in a positive, ethical manner.
We can lead in any environment, particularly new ones, with an approach that includes the following six steps:
1. Quickly understand the environment and culture
2. Engage the subject matter experts already on the team
3. Look to enhance the good, before making major changes
4. Anticipate problems and be a proactive problem-solver
5. Know the needs and desires of your customers
6. Establish and implement a strategic plan
Twenty-five years later, I still choose to lead. Using my recommendations above will help you lead, too. I encourage you to lead with integrity.