Ethics Matters
May/June 2019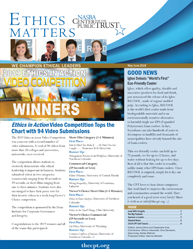 Igloo, which offers quality, durable and innovative products for food and drink, just announced the release of its Igloo RECOOL, made of organic molded pulp. According to Igloo, RECOOL is the world's first cooler made from biodegradable materials and is an environmentally sensitive alternative to harmful single use EPS (Expanded Polystyrene) foam coolers. In fact, Styrofoam can take hundreds of years to decompose in landfills and thousands of municipalities have already banned the sale of foam coolers.
This eco-friendly cooler can hold up to 75 pounds, ice for up to 12 hours, and water without leaking for up to five days. Best of all is that this cooler is reusable, unlike many other EPS foam coolers. Once RECOOL is emptied, simply let it dry out completely and reuse.
The CPT loves to hear about companies that work hard to improve the environment and communities around the world. Have you heard of a good news story lately? Share it with us at info@thecpt.org.