Ethics Matters
March/April 2019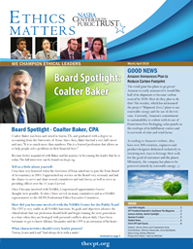 University of Northern Colorado Practices
Ins and Outs of Networking
CPT Student Programs Manager, Ashley Metivier, joined students at the University of Northern Colorado for an interactive presentation focused on networking. Students learned what she keeps in her networking toolbox and practiced firsthand what it takes to be
a great networker.
Lipscomb University Wages Pros and Cons
Students at Lipscomb University StudentCPT discussed the ethical implications of
established minimum wages. They watched videos that argued both sides of the conflict
and then split up into small groups to discuss it further.
Colorado Mesa: "What is…Ethics?"
Colorado Mesa StudentCPT leaders taught
their members about ethics using a homemade
Jeopardy game!