Ethics Matters
March/April 2019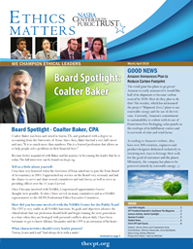 Janessa Harkley, a campus recruiter for Dixon Hughes Goodman LLP (DHG), is an alumna of the StudentCPT program and this month's Alumni Spotlight. Currently at DHG, Harkley attracts top talent on various campuses and leads campus recruiting efforts. A graduate of North Carolina Agricultural and Technical State University, she earned a bachelor's degree in accounting.
To become better acquainted with Harkley, read her partial interview below. To read the interview in its entirety, visit thecpt.org.
Tell us about your experience in the StudentCPT program. Would you recommend it to other students and if so, why? The program helped develop me as a person and as a young professional. Yes, I would strongly recommend the StudentCPT program to students. The StudentCPT program really prepares students to face ethical dilemmas head-on, as well as shape them into the ethical people and professionals that they desire to become.
Tell us about the StudentCPT Leadership Conference. What was your favorite part or memory from that experience? The StudentCPT conference was amazing. It was my first time in Colorado, so I was very excited. I was also a little nervous because I wasn't sure what to expect. But, that quickly changed as soon as I went down to the lobby for registration and took a selfie with the CPT staff and the camera man! That is a moment that I will never forget and one of my favorite moments.
To read the interview in its entirety, please visit thecpt.org.