Ethics Matters
March/April 2019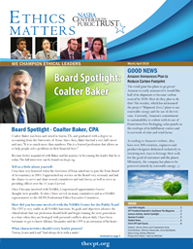 The CPT provides transformative leadership and ethics training to high-potential college students through the Student Center for the
Public Trust (StudentCPT). Participating in the 2019 CPT Golf Classic on Monday, July 8, will help develop our next generation of business leaders. Student members learn how to navigate ethical dilemmas by developing their leadership and decision-making skills. Your support will make a tremendous difference for students and American businesses in the future.
Sign up today at thecpt.org/golfclassic/
For more information or questions, contact Sara Irving at sirving@thecpt.org.