Ethics Matters
December 2018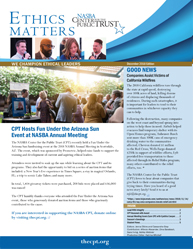 Minnesota State University- Mankato Finds Passion in Ethical Leadership
In November, CPT President, Alfonzo Alexander, joined the StudentCPT chapter at Minnesota State University- Mankato. He discussed how easy it is to get swept up into ethical dilemmas and the importance of ethical leadership in the workplace.
Ohio University StudentCPT Members Learn about Ethical Risk Areas
In November, Ashley Metivier, Business Development Specialist, visited Ohio University for "Accounting Night." Student groups Beta Alpha Psi, Accounting Club and StudentCPT all came together and learned about some of the factors that influence ethical risk with young professionals.
University of Delaware Young Professionals Prepare for Ethical Dilemmas
The University of Delaware StudentCPT Chapter hosted guest speaker, Gene Truono. Truono shared what he experienced as a young professional in the business world. He provided insightful information about potential ethical dilemmas young professionals could face. Truono was instrumental in implementing JP Morgan Chases's USAPATRIOT ACT compliance program to combat money laundering and terrorist financing.
Local Leaders Support Belmont StudentCPT
Belmont students were treated to Lisa Harless, Senior Vice President of Wealth Management at Regions Bank. She spoke about her leadership experience in the banking industry. Other StudentCPT Officers from Lipscomb University and Middle Tennessee State University were also in attendance and came out to support the Belmont chapter.