Ethics Matters
December 2018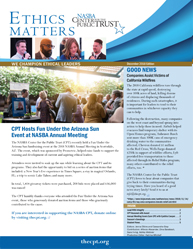 As ethical leaders, we are often called on to make a tough call. While difficult decisions are not easy for anyone, some leaders seem to consistently make better tough decisions than others. If you are like me, you have made some good ones and some bad ones. Recently, I looked back at my best decisions and I found some common themes.
First, I considered the immediate impact on all important stakeholders. I wanted to get to the bottom line, and make the best decision in the most efficient timing. However, I needed to look beyond the impact on me and the business to consider the impact on other stakeholders. When broadening my thinking, I was able to see some additional factors that led to positive results for others, which helped me, too.
Secondly, I looked at long-term impact and unintended consequences. Considering what the decision meant to everyone tomorrow (as best I could predict the future) was critical. Once I was leaning in a particular direction, I took time to consider how decisions, at that time, would impact everyone later. Sometimes the immediate fix can cause challenges later, so in considering these decisions, I looked at the present and future impact.
Finally, I recognized the emotional component, but I did not let it drive the decision. We all know emotions can often cause us to make a quick decision that is not in our best interest. However, emotions are not to be completely dismissed when making difficult decisions. I have found it best to recognize and acknowledge the emotions I experience when making a tough decision. Through this recognition, I can fully address the situation by recognizing biases my emotions bring into the equation. When doing so, I can compartmentalize them to make sure they are considered, but are not a driver of my decision.
Here is the reality…as ethical leaders, we are expected to make the right tough call. Are you equipped? Are you ready? If not, I encourage you to develop a process that you can use to help you do what is right when faced with a tough call. With a process, you will win more than you lose.
As always, Lead with Integrity.