Ethics Matters
December 2018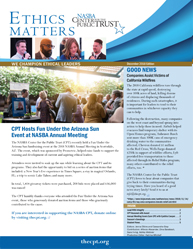 The 2018 California wildfires tore through the state at rapid speed, destroying over 100k acres of land, killing dozens of citizens and displacing thousands of residences. During such catastrophes, it is important for leaders to tend to their communities in whichever capacity they can to help.
Following the destruction, many companies on the west coast and beyond sprang into action to help those in need: Airbnb helped evacuees find temporary shelter with its Open Homes program; Anheuser-Busch sent more than 300K cans of emergency drinking water to the communities affected; Chevron donated $1 million
to the Red Cross; Wells Fargo donated $250k in support of wildfire efforts; Lyft provided free transportation to those affected through its Relief Rides program; many others contributed to the relief efforts, too. *
The NASBA Center for the Public Trust (CPT) loves to hear about companies that give back to their communities during trying times. Have you heard of a good news story lately? Send it to us at info@thecpt.org.
*https://www.bizjournals.com/sanfrancisco/news/2018/11/14/camp-fire-bay-area-companies-donate-relief-aid.html