Ethics Matters
December 2018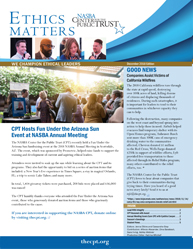 The NASBA Center for the Public Trust (CPT) recently held a Fun Under the Arizona Sun fundraising event at the 2018 NASBA Annual Meeting in Scottsdale, AZ. The event, which was sponsored by Prometric, helped raise funds to support the training and development of current and aspiring ethical leaders.
Attendees were invited to soak up the sun while learning about the CPT and its programs. They also had the opportunity to bid on a series of auction items that included: a New Year's Eve experience in Times Square; a stay in magical Orlando, FL; a trip to scenic Lake Tahoe; and many more.
In total, 1,414 giveaway tickets were purchased, 208 bids were placed and $36,000 was raised!
The CPT humbly thanks everyone who attended the Fun Under the Arizona Sun event, those who generously donated auction items and those who graciously contributed to the cause.
If you are interested in supporting the NASBA CPT, donate online by visiting thecpt.org.