Ethics Matters
November 2018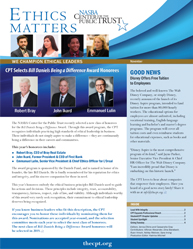 University of Wyoming Welcomes Back Students
On September 10, University of Wyoming students welcomes past and future StudentCPT members. Officers gave introductions and they reviewed the fall 2018 activities calendar.
Truman State Freshman Are Introduced to the StudentCPT
Aspiring business administration and accounting students at Truman State University were invited to a "Majors Welcome Event." Incoming freshman participated in an Escape Room challenge then met members of the StudentCPT.